Booking your holiday
The time you can make the biggest saving on your trip abroad is when you book your travel. Here are a few ideas for keeping costs down.
Book early

Flights increase in price the closer to the time of departure one gets, as seats are sold. Rarely, you might find that last minute flights are very cheap as the airline hasn't sold all of its seats, but this isn't reliable and your best option is to get in ahead of the crowds.

Some comparison apps and websites, like Skyscanner, Kayak and momondo, can help you shop around to get the best price.

The same goes for lots of accommodation. This applies to hotels and apps like AirBnB. While some prices have a fixed minimum, many will be discounted if you book far enough in advance. Some tour operators also let you pay off a bit of your holiday each month, once you've paid the deposit, if you book well in advance.

Don't fly at popular times

If you can arrange your holiday to depart and return at odd times, such as early on a weekday morning, then flights may be cheaper than at more popular times like weekends.

Look out for sales

Most airlines have sales, just like shops. Keeping an eye out for the potential savings you could make – it often requires only a little research.

Be flexible about destinations

There are two approaches to this: total flexibility and partial flexibility. If you're totally flexible about where you want to go on holiday then you can see where airlines are offering the cheapest flights to.

But if you know the region you want to be in, then take a look at nearby airports as well as the main destination hub. The same applies at the UK end – there may be cheaper flights to your desired destination available if you're willing to travel a bit before departure. Of course, you'd need to weigh up the cost of getting to the cheaper airport and see whether the difference is beneficial.

Outlying areas near popular tourist destinations can often end up being cheaper. You can see whether it's more cost effective to stay a short journey from your destination – who knows, you might find an undiscovered gem.

Pay for your flight with your credit card

Paying for the cost of the flight on your credit card won't save you money but it can offer you protection if anything goes wrong with your airline. If you do choose to pay in this way, it's best to pay off your credit card balance early to avoid high interest charges.

Buy your travel insurance when you book your holiday;

Travel insurance is important for any trip abroad. If you're covered from the point of purchase then you can be protected if certain things prevent you from going away.

If your credit card provider or bank offers free travel insurance, this may not cover you for all of your needs. Check the policy carefully and decide whether it offers the coverage you need. Think about things like health cover for your unique needs and protection for any activities you'll be taking part in.

Buy your travel money in advance

Buying travel money at the airport can be much more expensive than getting it in advance. And if you buy at a time when the exchange rate is favourable, you can lock in that saving.

It's wise to have a supply of holiday cash even if you know that your destination is a largely cash-free society. This is useful for a range of minor expenses and, if kept separately, can get you out of a tight spot if your cards go missing.

See if you can fly for free

If you've got a credit card that accrues points, like Avios, you may have earned yourself a free flight. It's always worth checking this. This can be particularly useful if you're happy to be flexible on destinations

With special deals, limited time offers, cashback, partner deals, newsletter sign-up bonuses, and any other of the many promotional schemes airlines use, you can quickly build up your points to get to your dream destination.

Tell your mobile company you're going away

They will give you options on the cheapest way to use your phone abroad, especially if you're travelling outside the EU. Another top travel hack is to keep your phone in 'airplane mode' throughout your holiday, if you're worried about the cost of accidental downloads.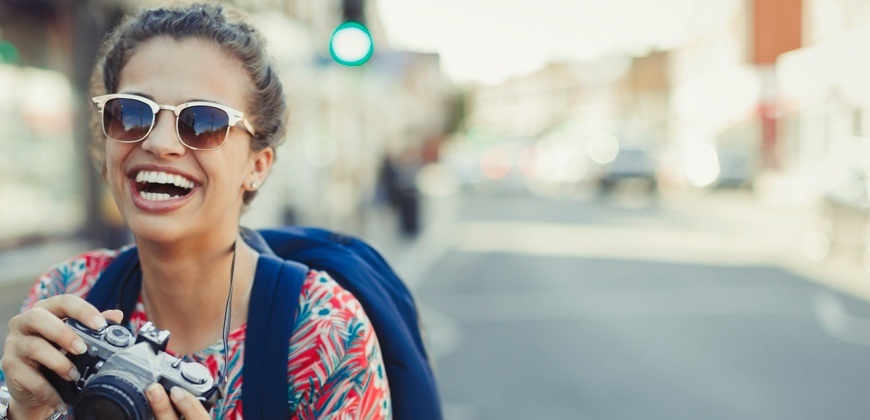 Travelling on a budget
So you've booked, and hopefully saved yourself some money in the process. Now for saving on the journey!
Avoid credit card fees abroad

If you like to pay with plastic while you're away, doing so smartly and paying off the balance quickly can help you avoid unwanted fees or interest charges.

Paying on debit card abroad can come with high fees which you needn't pay if you have a credit card that doesn't charge for overseas transactions. Check what your credit card provider's policy is on this, if you don't already know.

If you do pay by card abroad you may get asked whether you want to pay in sterling or the local currency. Always go for the latter, to avoid expensive conversion fees. And make sure you pay off your card balance in before any interest charges are applied.

See if you have a lounge pass

While it's not strictly a cost-saving measure, some credit cards come with access to airport lounges. And if it's the kind where you can get free food and drink, this can save you loads on the price of snacks in the airport or even making them at home before you leave.

Sharing is saving

There are numerous ways to cut down costs via the sharing economy. For instance, BlaBlaCar is a ride-sharing service where you book into a carpool. You'll meet others on your trip and save money in the process.

Similarly, EatWith is a way to meet people – particularly good if you're travelling alone – offering opportunities to eat with locals as part of groups. It extends to cooking classes and food tours too – all while cutting back on the cost of eating out.

Knowledge is power

There's a lot you can find out about a place from online resources like TripAdvisor, but when it comes to local knowledge, you can't beat getting out there and chatting to people who spend every day in your destination.

Meeting locals can help you find experiences that are more authentic and more to your taste. But you can also find out about the most budget-friendly options available in the locality.

Drink tap water if it's safe

Before doing this, check that the tap water where you're staying is safe to drink. There are many parts of the world where this is not the case and you need to use bottled water, even for things like brushing your teeth.

But if it is safe, then asking for tap water in restaurants or providing your own water will save on the cost of expensive mineral water or constantly filling up with plastic bottles, and is also kinder on the environment.

Stay connected for less

Roaming data when you're abroad can be very expensive. Your provider might have data packages available that give you an amount of data for free should you need it. Be sure to check that the country you're visiting is covered by your provider first.

If you'd like to connect to free Wi-Fi in an establishment you're visiting but don't know the password or how to ask for it, you may be able to find it in the comments on Foursquare.

Download whatever you can in advance

In order to save on data and to avoid having to constantly hang around WiFi hotspots, download a map of the area in a maps app. This means you'll be able to get around without needing to be online.

The same goes for translation apps. You can download a language in dictionary form so that you can look up words and phrases without having to go online.

Finally, if you like to listen to music, download as much of it onto your phone or mp3 player as you can so that you're not having to eat into data just to have something in your ears.

Avoid the money traps

Anywhere that has a tourist industry will have an area where costs are elevated, such as the Palais Royale in Paris. If you know where these areas are then you can avoid spending more than you want to in them.

Similarly, hotel minibars and restaurants/bars will normally contain heavily inflated prices. Unless it's an emergency, avoid the temptation to reach inside them. If you plan ahead you can usually buy the same items, and sometimes larger sizes, for less money at local supermarkets.

Concessions

Make the most of your concession status if you have one. These are often age-based – so if you are under a certain age or over another you may qualify for discounted tickets to attractions such as museums, plays, concerts and other cultural events.

Work your way around

If you'll be travelling the world for an extended period, one way to help you do it and budget as you go is to work in some or all of the places you visit. If you're prepared to put the work in and don't mind long hours, there are plenty of opportunities to top up your travel fund while getting a first-hand taste of living and working in a new country. Possible jobs include bar worker, waiting staff, au pair, tour guide, ski resort staff, farm worker or cruise ship staff.

If you're interested in working abroad to help fund your travels, make sure you've got the necessary visas for your destinations and that your travel insurance policy will cover working in another country.

If your travel plans are long term than just a holiday, there's also big demand for people able to teach English abroad, particularly in Asian countries. The best way to secure such a role and life experience is to first get a Teaching English as a Foreign Language (TEFL) qualification. But there are some positions that don't require one and many schools will even pay for your flight and help you with your accommodation.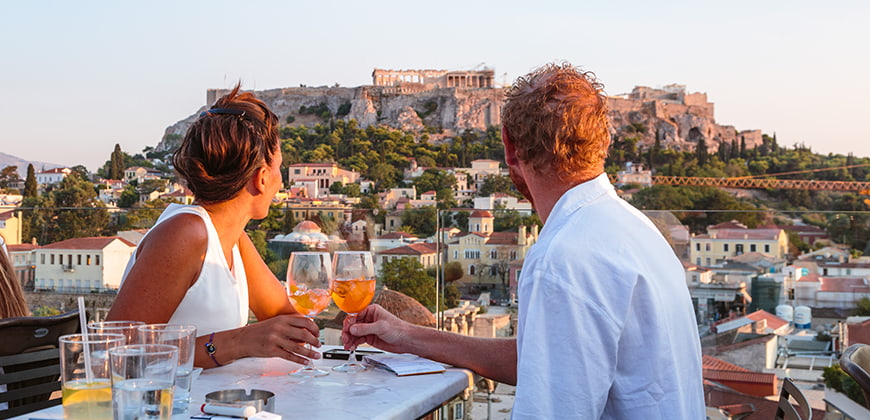 Eating out
Food is more often than not a huge part of a culture. And cultures are often justly proud of their own particular cuisine. So whether you're a foodie or not, eating out is an exciting and – one hopes – delicious part of travelling.
And it doesn't need to break the bank. Sure, you can always find a restaurant whose prices make your eyes water, but by and large it's not a challenge to find eateries that satisfy your hunger for culture and come with a reasonable price-tag too.
Eat like a local

Restaurants and cafés in tourist areas are notoriously expensive, so stay off the main drag when you're hungry. You'll find the food is cheaper (and quite possibly more enjoyable) if you walk five minutes around the corner to a corner café or bistro full of locals. In many places, local and street food is one of the main attractions. If you're not sure where to try, find a review website like TripAdvisor and look up restaurants online.

Cook like you're at home

If you've got the facilities to make an easy meal, then buying supplies at a supermarket will almost always save you money over eating out.

You can also try your hand at cooking local dishes and trying out the regional food for a fraction of the price of a restaurant.

And you can also make yourself a packed lunch for your excursions the following day.

Share your experiences

The previously-mentioned EatWith is a social app that enables you to join food-based events hosted by locals in a huge number of locations all over the globe.

These can range from dining experiences where you'll sample local, home-cooked food through food tours to cookery classes, providing a raft of experiences that anyone who wants to learn about a culture and its cuisine can enjoy.

Keep your ear to the ground

People who live locally are of course the best placed to advise on what's good, what's cheap, and what isn't.

You don't necessarily need to strike up conversation with a stranger to gather this information; just keep a keen eye out for the most popular eateries that aren't full of tourists.

Learn the lingo

Most cultures have their own form of fast food or street food. And unless you're a particularly fussy eater, chances are there'll be something to whet your appetite.

The thing is, you might have to know what you're looking for. A quick search should give you a few ideas, but chatting to locals will be most helpful. And once you've found your snack of choice, you can get practising the language too!

Know when to tip

Find out exactly how much it's polite to tip in the country you're visiting and stick to it. While it's tempting to be generous while you're on holiday – especially when you're using unfamiliar money – those lavish tips will soon add up. You'll regret them when you're about to buy a drink for the flight home and realise the last of your cash went on a tip.

Can't beat a home-cooked meal

Home comforts are even more comforting when you're away. So having a home-cooked meal when you're abroad can offer a unique experience that you can't get by dining in restaurants and cafés. TravellingSpoon is a site dedicated to pairing you with vetted locals who'll cook for you – whether that's local delicacies or their own creations.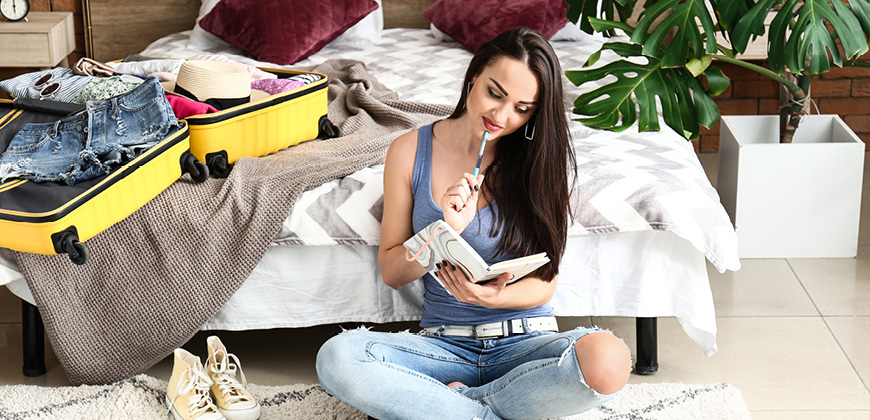 Transport
Take public transport

Taxis can cost quite a lot of money, especially when you're travelling in tourist hotspots. Public transport is almost universally the most cost effective way of travelling around. It might be intimidating to navigate the buses and metros of a new city but it's a rewarding experience and can save a few pennies.

If you do catch taxis, make sure you're clear on whether tipping is expected and how much to tip the drivers – then stick to it so you can budget effectively.

Concessions

If you're lucky enough to be a student or within certain age brackets (usually child, young person, student or pensioner) then you could qualify for discount travel on public transport and city- and nation-wide travel.

Remember that even if you do qualify for a travel discount, you'll likely need to prove this. Your passport, for example, doesn't prove that you're a student, so if this is something you want to cash in on then make sure you bring the relevant ID.

Look at rideshare apps

Uber and its competitors operate in a great many cities internationally, and can often be cheaper than metred taxis and taxi firms.

Remember, though, that Uber doesn't have the same track record of safety in every country. So be sure to read up on local travel options for the area you're visiting before going.

Carpooling apps, where you pay a nominal fee to share a ride with others, can be even more cost effective than solo fare rideshare apps.

That said, it's imperative to remain safe. Never get into unlicensed cars or those where the driver does not carry identification of their status as a professional driver.

Cross country options

Don't leave your travel to be an afterthought. Indeed, the cross-country and international travel options available can be a holiday in themselves.

For instance, train travel within the Schengen area for UK citizens means that you can see many EU and other countries without needing anything more than your passport. But remember, most EU destinations require at least six months on your passport before its expiry date

Even now that the UK has left the EU, travellers with a UK passport will be able to stay in the area without the need for a visa for a maximum of 90 days in any 180-day period. This may be spread over several trips. What counts towards this 90-day quota can differ by EU country, so check the rules particular to your destinations. Outstaying this maximum may result in bans on entry to the Schengen area, not only the country you are visiting.